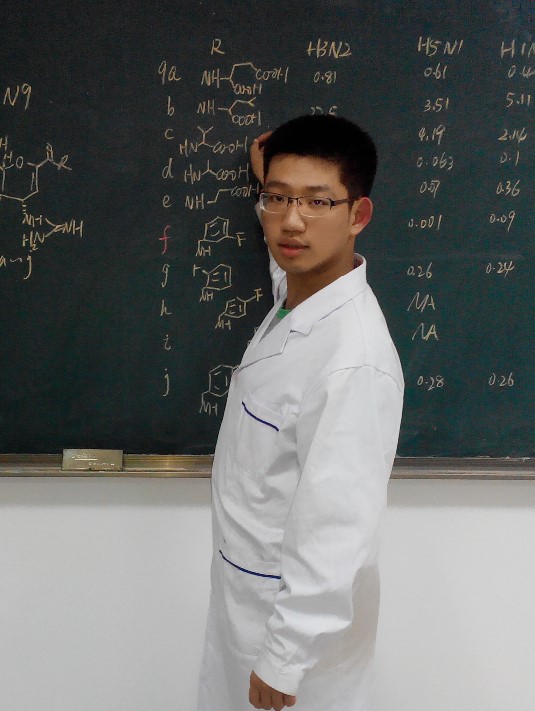 SI, CHENGYUN
Assistant Experimentalist of Physical Chemistry
School of Science
Phone: 86-13611580728
Email: sichengyun@cpu.edu.cn
Research Summary
Master Si's research mainly focuses on two main areas.One is application of physical chemistry on pharmaceutics, and another is theoretical research of computer aided drug design on physical and theoretical chemistry.
Education
2017M.S., Chemistry, China Pharmaceutical University
2013B.S., Pharmaceutics, China Pharmaceutical University
Academic Experience
2017-Assistant Experimentalist of Physical Chemistry, School of Science
Publications
1. Si Chengyun, Ji Fangyuan, Xu Kaijun. Study on New Synthesis Method of 2-(4-chlorophenyl)-2-hydroxy-N-(1-phenylethyl) Acetamide[J]. Guangdong Chemical Industry, 2017, 44(14): 4-6.
2. Si Chengyun, Xu Kaijun, Ji Fangyuan. The Synthesis of A New Reagent for Bromination Poly(vinylpyrrolidone)-bromine Complex. CN, 107445805A[P]. 2017-12-08.
3. Si Chengyun, He Yanlin, Xu Kaijun. A New Method of Synthesising Mandelic Acidamide. CN, 106748874A[P]. 2017-05-31.