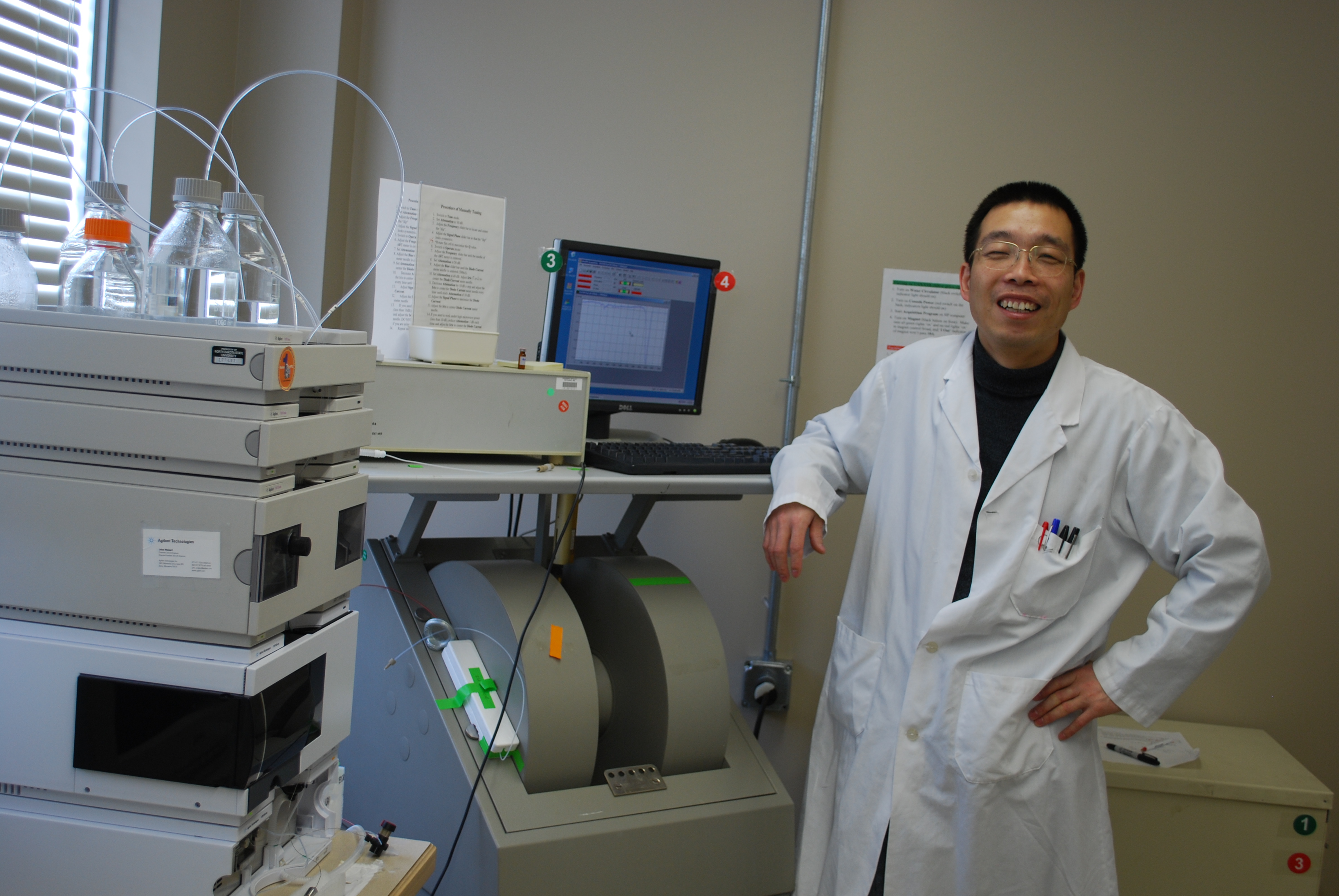 YU, QINGFENG
Associate Professor of Pharmaceutical Analysis
School of Science
Phone: 86-25-86185150
Email: yuqingfeng@cpu.edu.cn
Research Summary
Our research focus on the application of analytical techniques in quality control of drugs, including traditional Chinesemedicine and chemical drugs. We also interested in the metabolism of polyunsaturated fatty acid in vitro and in vivo.
Education
2009 Ph.D., Pharmaceutical Analysis, China Pharmaceutical University
2001 M.S., Pharmaceutical Analysis,China Pharmaceutical University
1995 B.S., Formulatios of TCM,China Pharmaceutical University
Academic Experience
2011- Associate Professor of Pharmaceutical Analysis, School of Science, China Pharmaceutical University
2003-2011 Lecture of Analytical Chemistry, School of Science, China Pharmaceutical University
Publications
Wang, Wan,Yu, Qingfeng,Xiao, Ying*,He, Hua*。Rapid Determination of Long-chain Aliphatic Aldehyde in Gutter Oil by Fluorescent Derivatization- High Performance Liquid Chromatography。Chinese J. Anal. Cem,2017,45(5):770-776.

Qian, Yifan,Zhu, Yunyun,Ji, Shanshan,Ma, Jingjie*,Yu, Qingfeng*。Supercritical CO2 Fluid extraction and colloid mill inclusion methodology of essential oil from Acorustatarinowii Schott。Pharm. Care. Res,2016,16(2):121-124.

Yu, Qingfeng,Xiao Ying,Ni, Kunyi,Steven Y. Qian. Identification and Characterization of Carbon-centered Free Radicals Formed from Lipoxygenase-Catalyzed Lipid Peroxidation of Dihomo--Linolenic Acid。Chinese J. Anal. Cem,2009,37(12):1815-1819.

Qingfeng Yu, Preeti Purwaha, Kunyi Ni, Chengwen Sun, Sanku Malik, Steven Y. Qian. Characterization of Novel Radicals from COX-Catalyzed Arachidonic Acid Peroxidation. Free Radical Biology & Medicine, 2009;47:568-576.

Qingfeng Yu, Zhen Shan, Kunyi Ni, Steven Y. Qian. LC/ESR/MS study of spin trapped carbon-centered radicals formed from in vitro lipoxygenase- catalyzed peroxidation of-linolenic acid. Free Radical Research, May 2008; 42(5):442~455.